At Haller & Hug, we are committed to the health and well-being of your children. Our board-certified pediatric doctors offer comprehensive healthcare for newborns to adolescents.  We diagnose and treat numerous acute and chronic pediatric conditions.  
To schedule an appointment for your child, call our us at (248) 477-5608. We value the responsibility we have in caring for your child and welcome the opportunity to be an integral part of your family. After hours emergency contact (248)-522-2838.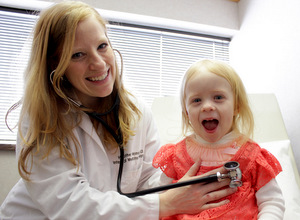 Services for our young patients include:
Newborn Care
Well Child Visits
Sick Visits
Immunizations
Adolescent Care
Inpatient Care
Hearing and Vision Screenings
Newborn Care
As part of our pediatric practice, we are happy to see newborns in the hospital. We are on staff (and see newborns) at Beaumont Hospital in Royal Oak. We usually recommend that your baby be seen in our office 48 hours after discharge.

Well Child Visits & School Physicals
We offer well child care and comprehensive preventative medicine for all children. Well child visits are an important part of ensuring healthy and safe development. When having your school physicals performed, it is better to have your physical with your physician who knows you.We focus on the whole child and stress preventative care. We follow the recommendations of the American Academy of Pediatrics and recommend that children be seen at the following ages:
Newborn
2 Months
4 Months
6 Months
9 Months
12 Months

15 Months
18 Months
2 Years
Yearly from 3 years old and up
At these visits we will address all developmental and health concerns, as well as provide "anticipatory guidance" for parents. We provide handouts for parents at each of the health maintenance visits that may answer many questions you have about this stage in your child's development.
Sick Visits
As a service to our patients, we do save space for same-day sick visits. This is a good way to avoid costly emergency room or urgent care visits. Please call early in the morning on the day you would like to be scheduled so that we can accommodate you.  We also have Saturday appointments available. We always have a doctor on call should you have a question about your child's care after hours. The on-call physician can be reached through our answering service at 248-522-2838.

Immunizations
We stock all immunizations for children in our office, including flu shots. Recommended vaccinations will be discussed at your child's preventative visits.

Adolescent Care
Our family physicians are board certified in internal medicine and pediatrics and are a great choice for teenagers who need to "transition" from the pediatrician into adult care. During this visit, you can expect to discuss issues with your child and the doctor, and then for the doctor to examine your teen privately. This gives us a chance to address any health concerns with your teen while maintaining a confidential doctor/patient relationship.

Beaumont Health – Student Heart Check – click here for more info
Inpatient Care
We are happy to provide daily inpatient care for your child at Beaumont Hospital in Royal Oak. Providing hospital care for your child allows for continuity of care and is comforting for you and your child to see a familiar face in a time of need. We will also help coordinate care with any sub-specialists while your child is in the hospital.

Hearing and Vision Screenings
We offer hearing and vision testing as part of your child's yearly well visit, and we can also use these services diagnostically if your child is experiencing a problem with these senses. The vision screen is done using a Snellen chart. The hearing screen is performed by a machine and is called an OAE or otoacoustic emissions test.