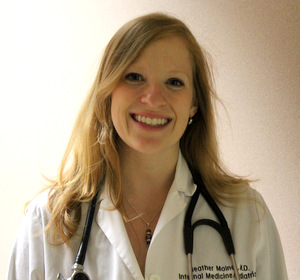 Dr. Molnar is the newest addition to Haller and Hug, P.C.  She was elected by her peers to serve as the Internal Medicine and Pediatrics chief resident at Beaumont Hospital Royal Oak 2012-2013.  She then graduated from her residency in June of 2013 and gave birth to her son the following month.  She is board certified in both Internal Medicine and Pediatrics.  She is a member of the American College of Physicians and American Academy of Pediatrics.  She obtained a bachelor of science in biology at the University of Michigan and earned her medical doctor degree at Wayne State University School of Medicine.
Dr. Molnar is NRCME certified and able to complete Department of Transportation physicals for those who do commercial driving.
Her clinical interests include treating families with members of all ages.  She is a breastfeeding advocate and eager to share tips and resources for those who are interested.
She is married to her high school sweetheart and the proud mother of three children.  She enjoys cooking, ballroom dancing and camping.  Dr. Molnar is regularly in the office Monday through Thursday and some Saturday's.