Our Holiday hours are listed

here

. Please have a safe and Happy Holiday and enjoy time with your family and friends. 
Our office will no longer be accepting faxed prescription requests from pharmacies. Please contact our office directly with these or ask your pharmacy to send the refill requests electronically. These requests can also be made using our chat feature by texting us at 947-900-8174 or with the link to the right. 
We will continue to see potentially infectious patients "virtually" only. Our hope is to continue to limit the spread of Covid-19 while making sure that we take care of all of our patient's health care needs.
Please be aware that our office is NOT connected to the mybeaumontchart directly. Any messages sent to our physicians through your mybeaumontchart to providers in our office, will not be seen. 
All other physicians are open to a limited number of new patients.
  
Here, you'll find the most comprehensive primary care services for both adults and children. We are a proven, successful practice, with many years of experience caring for the whole patient. Our mission is to provide an efficient and comfortable environment where our patients, of all ages, can come for high quality, evidence based healthcare. In addition , we strive to provide education and resources on how to improve health, as well as building a happier and healthier community. 
To schedule an appointment with our physicians,
Call Us Today at (248) 477-5608
text us @ 947-900-8174
fax (248) 553-2489
or (248) 427-0010
after hours  248-522-2838
or
Please Click HERE for our Patient Portal (to access your health records)
Please click here to chat with our office
Please note – We have changed over to klara to send messages via the internet to our office. This will include appointment requests, prescription refill requests, and messages to your physicians. 
*Please be sure to arrive 10 minutes prior to your scheduled appointment time. This will allow time for the registration process as well as time to fill out any required forms. In addition, this helps our office stay on schedule and reduces wait time for all patients.
*Remember, if you are more than 10 minutes late for your scheduled appointment your appointment is subject to cancellation.
27555 Farmington Road, Suite 120 Farmington Hills, MI 48334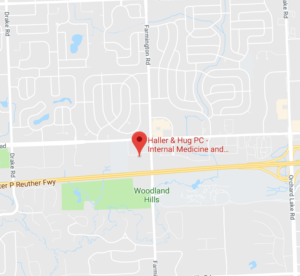 Our physicians are board certified in both internal medicine and pediatrics, which means that their training was focused on complex disease processes for patients of all ages in an outpatient setting.
At Haller & Hug P.C., our compassionate and knowledgeable physicians provide preventative medical services and physical exams, well child visits and adolescent care and same-day sick visits. They will personally call you with important lab test and blood work results and are easily accessible by phone to address your questions and concerns. Our friendly, professional staff is also here for you at all times, to listen and respond to your needs during and between visits. When you need to be seen, we will fit you into our schedule within 24 hours. We believe in partnering with you and your family to achieve the best outcomes for your health, and we tailor our care to your lifestyle.

Note: You must be registered to use the patient portal. You will be receiving an invite in your email asking you to setup your account with our new portal provider FollowMyHealth. Once you have successfully completed your registration you may access the new portal by clicking here. (logging in before you receive the invite will not give you access to your health records)